Multiple Product Printers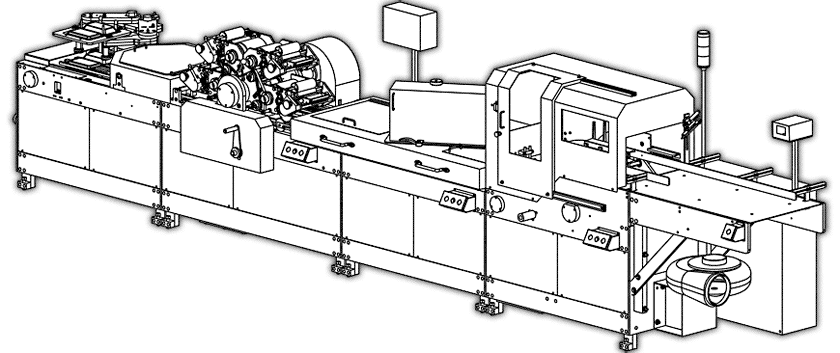 The Scheibler Brothers Multiple Product Printer is a 4-color, dry offset printer designed to print on pre-formed, hinged-lid containers made of either pulp or foam. Our standard model registers high quality color on the lid top of products ranging from small hot dog boxes to large meal boxes. In addition, products with recessed lids can also be printed, as well as various sizes and shapes of unhinged trays and plates.
The printer consists of 6 major components -
The Conveyor:
The main conveyor consists of heavy duty aluminum frame construction in a modular design. Each major component of the multiple product printer occupies a modular section or station. The modular design allows the customer to add or subtract stations as the process requires. The standard stations are the denester, top printer, ultra-violet dryer (for foam products) and stacker. A label applicator and other customer-specified stations can be added. Auxiliary sections of various lengths are also available for customer-mounted equipment.
The Denester
The feedscrew denester supports a stack of products and separates the bottom product from the stack, dropping it onto the conveyor. Depending upon the product, 2 or 4 feedscrews are used that can be quickly repositioned when changing to a different product type. Custom guide platforms are also used to guide the stack and position the feedscrews as required with little or no adjustment. The denester accommodates any combination of right-hand and left-hand feedscrews.
The Top Printer:
The 4-color top printer unit sits over the center of the conveyor and is mounted so that it can be raised and lowered with a hand crank. This easily customizes the printing height and minimizes guide adjustments. The top printer has a blanket cylinder that has removable shoes to accommodate different product sizes and products with recessed lids.
The impression roll tooling, located under the top printer, also has removable shoes. In general, a set of custom sized impression shoes is required for each different product.
The Ultra-Violet Drying Station (Optional):
Next in line on the conveyor is the ultra-violet drying station, a useful option for customers printing on foam products.
The Stacker:
The stacker, located at the end of the conveyor, collects the printed product and feeds it into a horizontal stack. The stack is then pushed onto a table where it is collected and bagged. A counter-marker system on the printer also aids in counting and sizing the finished stacks of printed product.
The Bench Washup:
The bench wash-up unit aids in cleaning, lubricating, and adjusting inker assemblies.
Printer Specifications:
| | |
| --- | --- |
| Type: | Dry offset |
| Colors: | 4 colors on lid top (only) |
| Image width: | 6.250" [158.75mm] maximum recommended |
| Image length: | 10.500" [266.7mm] maximum recommended |
| Option: | Running Registration |
| Option: | Auxiliary frames for customer-mounted equipment |
Machine Specifications
Speed Range:

50-100 boxes per minute

Machine length:

Standard: 17' 6" [5.3M]
With dryer: 21' 8" [6.6M]

Machine width:

52" [1.32M]

Machine height:

78" [2M]