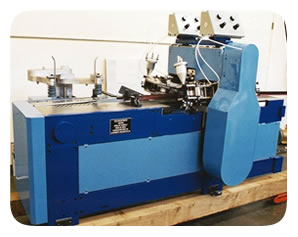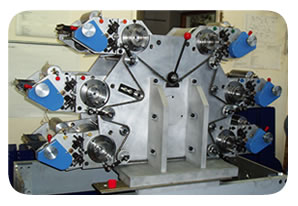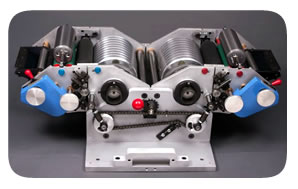 Retrofits
Scheibler Brothers, Inc. (SBI) retrofits help clients maximize the efficiency of their existing SBI Egg Carton Printer or Condes Egg Carton Printer. Satisfied customers around the globe are testament to the quality of these retrofits.
Examples of these additions and upgrades include:
Denester for Condes Egg Carton Printer:
To accommodate a wide variety of egg cartons and hinged-lid containers, we have developed the SBI Universal Denester. It features easily adjustable arms, and accommodates any combination of right-hand and left-hand feedscrews. It is simple to install.
Side Printer Belt Drive for Condes Egg Carton Printer:
The side printer's bevel gear transmission is replaced with a simple timing belt drive. With this change, print registration is vastly simplified, and fewer adjustments are required.
Side Printer Add-On for Older Condes Frame:
A SBI Universal Denester and a belt-driven side printer is added on to a compatible Condes frame, thereby providing side printing capabilities.

Top Printer with Running Registration:
A top printer with running registration allows the operator to register print as the machine is operating. The printer does not have to be shut down for adjustments to the registration. See FAQs.
Running Registration Upgrade Kit for Standard Top Printers:
The kit consists of all parts necessary to equip your existing standard top printer with running registration.
6-Color Top Printer:
By replacing your 4-color top printer with a 6-color top printer, your printing capabilities expand. The 6-color top printer is also available with the running registration option.
Safety Cover Kits for the Top Printer:
Developed in conjunction with one of our customers, these covers will bring your existing top printers up to current safety standards. This is a valuable upgrade.

Inside Printer:
Should your process require the addition of an inside printer, there are two models available. The 800 model has a 3.875 inch maximum print width; the 900 model has a 6.250 inch maximum print width. Otherwise, they are identical. Also inside printer drawer assemblies are available.
Spare Inker Assemblies:
Aids in quick color changes and reduces job setup time.
Inker Catch Upgrade Kit:
Install our new inker catch under the gear side latch on the inker assemblies. The catch locks the inker assembly in place, preventing movement due to gear pressure. This eases removal of the inker assembly from the printer. This is especially effective on the side printer inker.